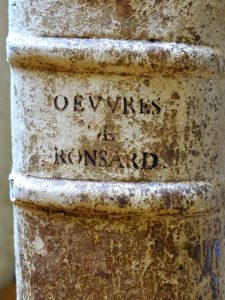 Ronsard's original editions
Printing brought literature to the masses in the 16th century and Ronsard reaped its rewards. His printed works were shared around the royal court and aristocratic and intellectual circles. The priory is home to the poet's original editions which it regularly displays, particularly texts written during his time at the priory and literature by his fellow Pléiade writers (Pontus de Tyard, Marc-Antoine Muret). The works include two original editions of his complete works, one of which still has its original binding, as well as La Franciade, Discours des misères de ce temps, Institution pour l'adolescence du roi Charles IX and the Odes.
Contemporary editions
Some of his poems have been set to music, making Ronsard even more famous than in his lifetime. Poets and artists drew inspiration from his verses to create their own works of art up to the 20th century: Salvador Dalí, Emile Bernard (Pont-Aven school), Henri Matisse and Marie Laurencin among others. The priory procures books by artists illustrating Ronsard's poems to add to its collections.
One of the pieces, Les Amours de Cassandre by Pierre de Ronsard illustrated by Salvador Dalí is particularly impressive. 299 copies of the book were published in May 1968 in Paris. One of these copies (n°127) on Arches Velin paper was purchased in September 2019. This piece of bibliophilia is an in folio book with 18 original etchings by the artist enriched by a series of 10 black tip-in etchings. The poems are illustrated by drypoint etchings with ruby and diamond on brass styli. They include a portrait of Ronsard and myriad depictions of his muse, Cassandre Salviati.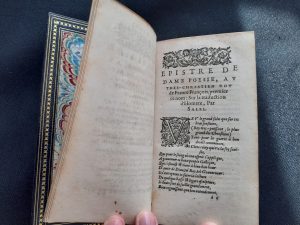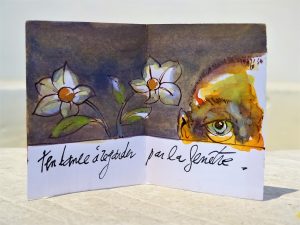 "Poor books"
20 years ago, the poet and book critic Daniel Leuwers set out on the "poor books" adventure with his first collection: Vice versa (the quid pro quo between poetry and painting). With over 2500 items in its collections by hundreds of authors and artists plus dozens of collaborations staging exhibitions around the world, the Prieuré Saint-Cosme collections are displayed on rotation to tie into the themes of temporary exhibitions or the culture schedule (Spring of Poets, Heritage Days).
Appearances can be deceiving as these "poor books" are actually little artist books handwritten by a poet to mirror the work of an artistic friend. The unique collection was born when Daniel Leuwers met the poet René Char, who made these books with his "substantial allies" Vieira Da Silva, Picasso and Braque. These pieces of bibliophilia may be closely guarded by their wealthy collectors but Daniel Leuwers originally wanted to expand the poor book concept to poets and artists by curbing any use of traditional publishing trades: no printers, no engravers, no lithographers, no bookbinders, no publishers.
A single piece of folded paper was sent to the poet who would write the title, text and logo by hand before an artist would create an original piece to bring it all to life: painting, collage, drawing etc. The "poor book" became rich. These books are all unique as just 4-6 originals were produced - 2-4 for the artists, 1 for Daniel Leuwers and 1 for Ronsard's House.
The "poor books" were first displayed at Ronsard's home in 2003 and are enriched by the encounter, blend and dialogue between artists from all different backgrounds. Authors who need no introduction – Fernando Arrabal, Michel Butor, Yves Bonnefoy, Andrée Chedid, François Cheng, Bernard Noël, Salah Stétié – appear alongside the "new guard" such as Bernard Chambaz, Annie Ernaux, Guy Goffette, Nancy Huston, Henri Meschonnic and André Velter. As for artists, they include Pierre Alechinsky, Georges Badin, Béatrice Casadesus, Erró, Joël Leick, Michel Nedjar, Jean-Luc Parant, Patrice Pouperon, Gérard Titus-Carmel, Vladimir Velickovic, Claude Viallat, André Villers, Yuki to name but a few.