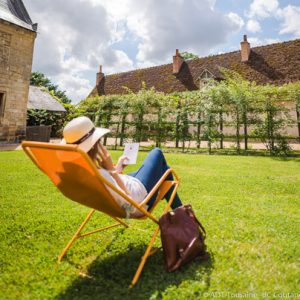 New visiting conditions
From 30 september 2021, in accordance with government announcements, access to the Prieuré Saint-Cosme requires the presentation of a health certificate from 12 years and older
Negative test certificate (less than 72 hours old) with QR Code (supervised self-tests accepted)
Certificate of positive test of at least 11 days and less than 6 months with QR Code
Complete vaccination certificate with QR Code
Medical certificate of contraindication
The conformity of the certificate will be checked at the entrance according to the sanitary rules in force.
Together, let's continue to apply the barrier measures :
Due to the Coronavirus epidemic, Saint-Cosme Priory has adapted visiting conditions and the services provided to visitors to guarantee everyone's health and safety:
Inside the buildings, all adults and children aged 11 and over must wear masks at all times. If you don't have a mask, we can provide you with a single-use mask.
To maintain a distance of at least one metre between each person, access to the ticket office/shop is limited to 8 people maximum and staff may further limit access to some areas.
Hydroalcoholic gel is available for visitors in different parts of the site.
Points of sale are equipped with a plexiglas protection. A mask or visor will be worn by all members of staff coming into contact with the public.
For practical and safety reasons, there are separate entrances and exits. Visits are organised so that contacts between visitors are minimised.
Visitors are asked to purchase their tickets online ahead of time. When buying tickets onsite, they are encouraged to use a contactless payment card.
In the shop we ask visitors to touch articles only when taking them to the till for payment and preferably to use a contactless payment card.
Due to their small size and visitor capacity, the two introductory rooms in the reception building, the Ronsard study and bedroom, as well as the guests' kitchen (poetic library) will remain closed to minimise contacts between visitors.
Treasure hunts for children and adults have been cancelled until further notice.
Reception staff are not authorised to look after your bags, headphones or other personal belongings.
20-minute presentations (only in french) are available for visitors (visit departures at fixed times : 10.30, 11.30, 14,30, 15.30, 16.30).
Guided tour are available for visitors (required booking, contact us)
Some visit information can be accessed on your smartphone using flash-codes.
The information on this page is subject to modification.
When followed by all concerned, these measures will guarantee that our monument can reopen in ideal conditions. Thank you for your understanding and your sense of solidarity for a visit to the Priory with perfect peace of mind.