In the priory collections: Marc Antoine Muret
In the priory collections : Marc Antoine Muret
Nowadays it's hard to grasp all the allusions to ancient myths and Antiquity authors in Ronsard's poetry. But don't worry, everyone in the 16th century French court was in the dark too...
Luckily Marc-Antoine Muret was there to rescue enthusiastic readers: phew!
a french humanist, a master of the pleiade poets
Muret (1526-1585) was Ronsard's contemporary (1525-1585).
He was born in Limoges and went into teaching at an early age. He was first and foremost a humanist who formed long-term intellectual connections with Montaigne and members of La Brigade (the future Pléiade movement) at Collège de Boncourt in Paris.
As a philologist, he constantly provided annotations, commentary and explanations for ancient texts by the likes of Catullus, Horace, Terence, Plato and Cicero.
Ronsard asked him to write a commentary for his poems (Les Amours) containing countless allusions to myths and neologisms taken from Greek and Latin. The commentary is printed in the 1553 Amours anthology. Muret also wrote the music for three Ronsard poems.
In return, the grateful poet gave him a poem (first published in the appendix for the second edition of Les Amours), an invitation to escape the world's chaos and reach the "The Fortunate Islands":
« Partons, Muret, allons chercher ailleurs
Un ciel meilleur, et autres champs meilleurs :
Laissons, Muret, aux tigres effroyables
Et aux lions ces terres misérables :
Fuyons fuyons quelque part […] »
A PHILOlogist forced to emigrate to ROME
Muret was imprisoned in Le Châtelet for sodomy and heresy in 1553. His powerful supporters had him released. He went to teach in Toulouse but the same accusations forced him to flee to Italy where he lived day to day in Padua, Ferrara and Venice among others. He was in regular communication with the Venetian printer Paulus Manutius then his son Aldus Manutius the Younger about printing work by several Latin authors.
Cardinal Ippolito II d'Este asked him to move to Rome in 1559. He returned to France for a while, after the cardinal, and took part in the Colloquy at Poissy between Catholics and Protestants. He moved permanently to Rome in 1563 and worked as a professor at La Sapienza University. He was famous for his erudition and rhetoric throughout Europe. He continued teaching Greek and law, made speeches and was a prolific letter writer.
He was ordained priest in 1576 and died on June 4th 1585 under the protection of Pope Gregory XIII. He left his impressive library to his nephew, who died a few months later, and it is now part of the "Vittorio Emanuele II" Rome National Central Library's fantastic collection.
MURET works in the PRIEURÉ ST COSME collections
Indre-et-Loire Council acquired two tomes for Prieuré Saint-Cosme, Ronsard's House, in one in-octavo volume, a reprint of the publication of Marc-Antoine Muret's work (1605) in 2020.
The first tome contains 26 speeches and orations by the Limousin humanist and a collection of 127 letters written to his contemporaries as well as hymns and Latin poems.
The second tome includes the life of M.-A. Muret by his friend François Bencius, a new collection of 21 speeches and orations, a group of 92 never-before-seen letters, Latin poetry including the famous Julius Caesar tragedy and Muret's edition of Mimes by Publius Syrus.
The piece will be on public display at Ronsard's house. You can gaze at the period binding and sharp edge.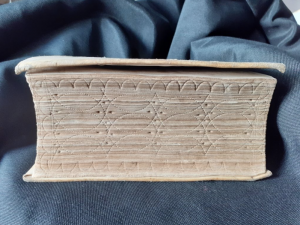 Find out more :
We recommend you read Mémoires de Marc-Antoine Muret, a novel by Gérard Oberlé. It's a work of fiction but based on facts from archives and historical publications.
If you want to find out more about Muret and his time, here's a recent and complete study: Marc Antoine Muret, un humaniste français en Italie, published by Christine de BUZON, Jean-Eudes GIROT, Raphaële MOUREN, Laurence BERNARD-PRADELLE, Geneva, Droz, Travaux d'Humanisme et Renaissance, 2020.
http://cornucopia16.com/blog/event/marc-antoine-muret-un-humaniste-francais-en-italie/
Article by : Florence Caillet-Baraniak, Prieuré Saint-Cosme assistant manager

« Les_vertus_du_café_sur_linspiration »
1. « Les_vertus_du_café_sur_linspiration »